The Doganizer! App
Simple. Clever. Walk the dog.
Plan and organize healthy and species-appropriate walks with your dog within the family or your circle of friends. Your pet will always get exactly the exercise he needs. Not too short, but also not too long. This way your dog will stay healthy and lively for a long time!
But Doganizer! can do so much more ...
Doganizer! gives answers.
Welcome to the dog's everyday life. At first, everyone wants to take care of the new family member at the same time ... then the enthusiasm slowly fades away. But it doesn't have to be that way.
Doganizer! makes it easy to take care of a dog together, within the family or with friends. Doganizer! plans, organizes, manages, and sets reminders. All this is very easy to do ...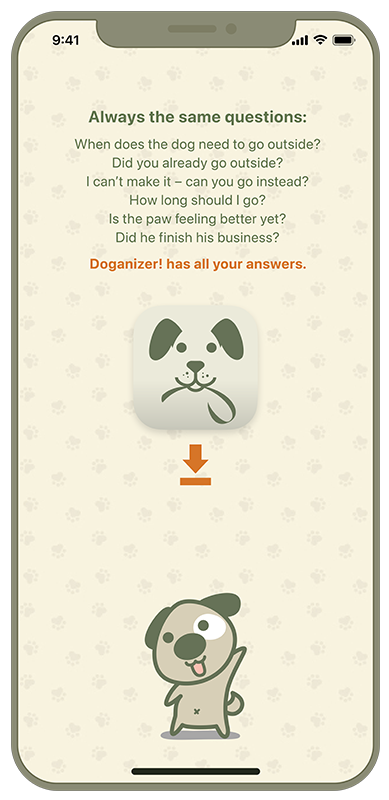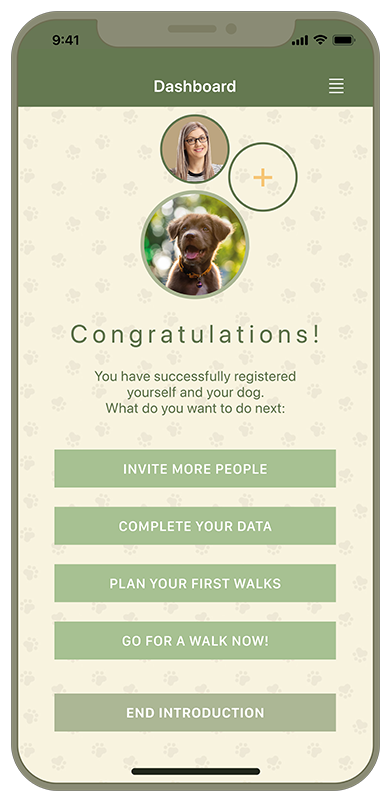 Smart, simple, and intuitive.
With a few questions, you can quickly register your dog and yourself. Just as quickly, you can invite family members and friends to take care of your dog together. Together, it's easier and more fun.
And before you know it, you are already planning your first walks ...

Over 400 dog breeds
... and their special characteristics are recorded in our unique database and there are more with every update. Our unique algorithm, which was developed with the help of veterinarians and breeders, analyzes, among other things, the individual information about your dog such as breed, age, gender and character.
That's what makes our app so smart,
... so special!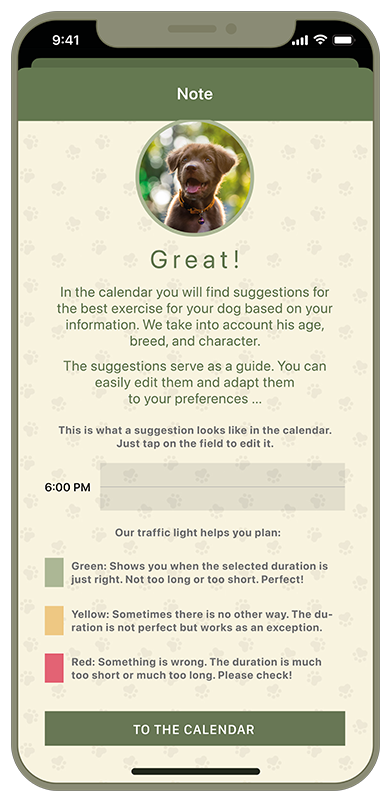 Healthy and species-
appropriate walks.
Our calendar was developed specifically for planning dog walks and incorporates many special features.
We make customized suggestions for your dog. Our traffic light system and hints will help you.
Decide together with your buddies who will walk the dog and when, and decide right away who will fill in. Leave an important note about the walk, e.g. if your dog is injured.

Taking care of your dog together
can be so easy.
We make it easy for you to take care of your dog together with other people (we call them "Buddies"). Buddies can be family members, friends, co-workers, or the dog sitter.
Doganizer! organizes the schedule within the group. Reminds of appointments. Provides all important info to everyone.
That way, all buddies are always in the loop at all times. So simple ... everything is easier when you work as a team.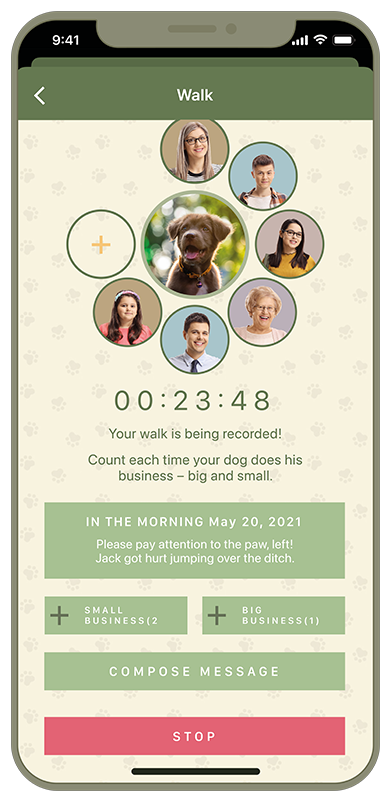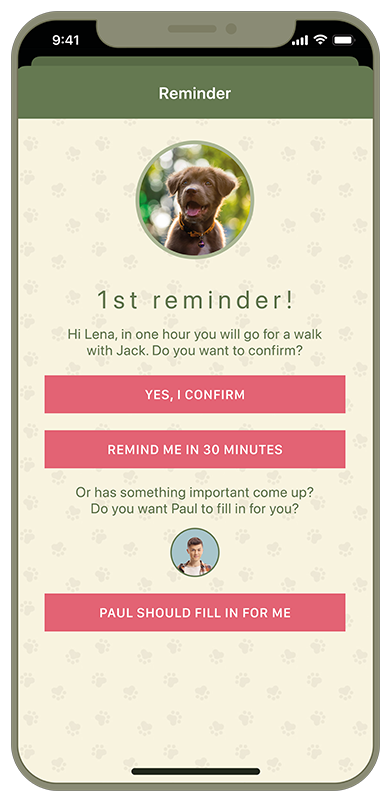 When things turn out
differently than planned.
You're stuck in an important meeting that just won't end. You're stuck in a traffic jam. None of that would be so bad if your dog wasn't waiting for you at home. Who could step in quickly now? Who has time at all? This is exactly where Doganizer! steps in to support you.
Our automated notification system handles everything from arrangements and reminders to updates. This way, everyone automatically stays up to date ...

Easy overview,
easy access.
In the dashboard of our app you will find your dog in the center of his buddies. You will see your next walks. With one click on the dog's profile picture, all dog info is available to everyone. From here you can easily invite more buddies.
The dashboard, is your center ...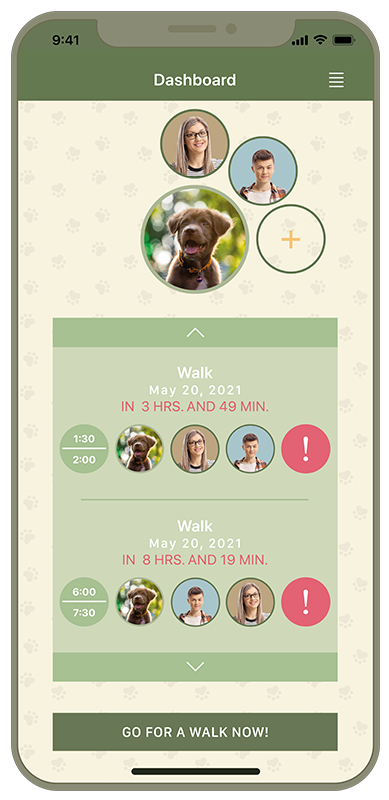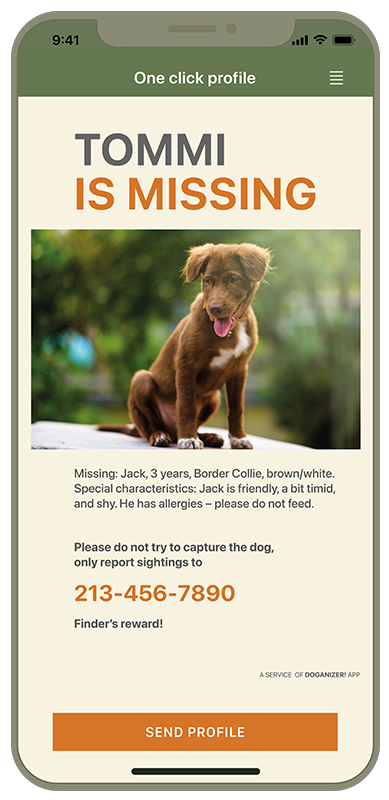 Your dog is missing?
Our "one click profile" helps.
Doganizer! offers you a unique service. You can quickly and easily create a "lost dog" printout. With one click our app sends you a PDF to your email address. From here you can print the "lost dog" poster or forward it via SMS/WhatsApp.
This saves time and aggravation in a situation where you are worried about completely different things.

Protect what is important to you.
Of course, Doganizer! supports you during your daily walks with your dog. But the original idea for this app was to protect the dogs in our modern, hectic times.
Our unique Doganizer! Guard monitors, supports, and protects your pet in the background.
We have already implemented many ideas and features. But there is much, much more to come ...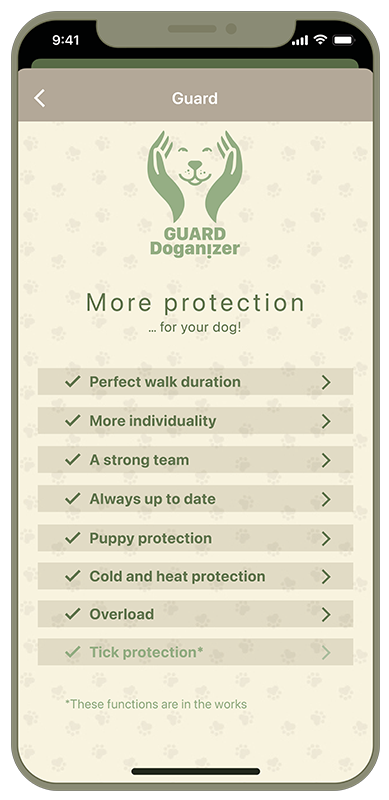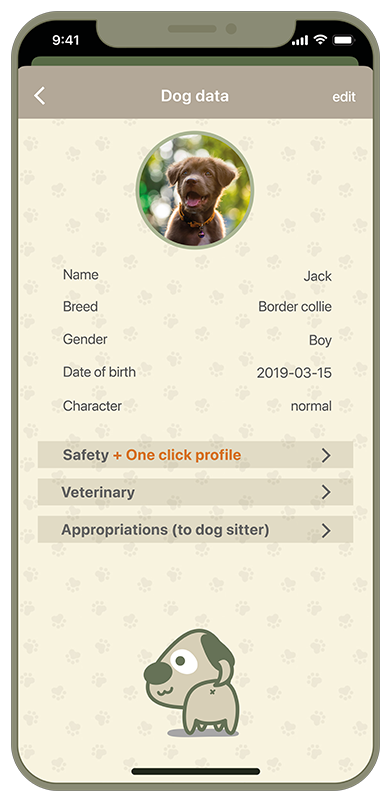 There is so much
to know about your dog.
People who care should know. When a buddy takes care of your dog, you want him to have all the information about your dog, such as: feeding times, which treats he likes, medication administration, allergies, vet contact info, Tasso No., etc. Add it once in the app and everyone knows at all times.
No more writing lists and notes!